Welcome to the last installment of Wedding Week at Rosy Blu! In honor of our two year anniversary coming up this weekend, I'm taking you on a walk down memory lane with me. Today's destination: the wedding reception!
Jon and I had a casual party on a Saturday night to celebrate with our family and friends at a local park adjacent to a campground. Our ceremony was very small, and on the Thursday beforehand. We knew it was an unorthodox choice, but we opted to do the small ceremony on a different day than our reception because both of us are more comfortable around smaller crowds and wanted to say our vows in a more intimate setting. But I couldn't bear the thought of celebrating without our extended family and friends, so we planned a laid back picnic-like party for the whole crowd, which came out to about 200 people.
See those tissue paper pom poms hanging around the shelter? They were also hanging around the big tent shelter, too….at least sixty of them, inspired by this post from Martha Stewart. I had such great intentions of having them all folded and tied ahead of time, but failed spectacularly amid all of the other things on my pre-party to do list. I had exactly seven of them ready the day before the reception. That afternoon and the morning of, everyone pitched in and helped–the bridesmaids, the groomsmen, parents, my brothers, and earlybird guests rescued my poorly planned project and pulled off making just enough pom poms to set the scene and make the park look perfect.
My aunt Diane Jauert did our flowers, and surpassed all of my wildest expectations. The bouquets were filled with daisies, peonies, tea roses, spider mums, carnations and I wish I knew the names of the rest, or had an ounce of Diane's skill for arranging them so beautifully. I could look at them for days.
And let me tell you, it was HOT. The party started around 4, and everyone was sweating bullets within minutes of showing up. One of our guests, Jon's cousin Mark, went back home and returned with two huge fans, which delighted absolutely everyone in the vicinity. Here's Arabella, our friends' little girl, in the most enviable seat in the house.
Right before dinner, my grandma Jean said grace then I got a hold of the microphone. I will never forget the surreal feeling of standing up, hearing my own voice from the speakers around me, and looking out at the faces of these 200 people who were there just for Jon and me. I was overwhelmed and grateful and excited and have no idea how I put sentences together, but I'm pretty sure I got my point across.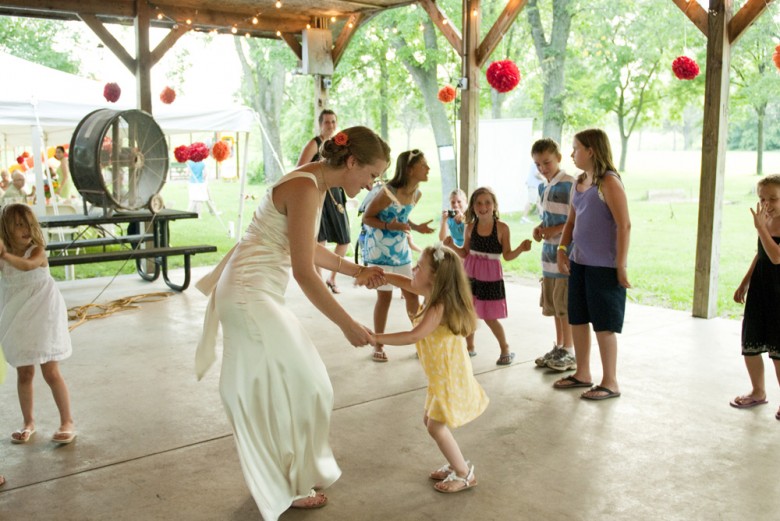 Photos: Once again, mad props to my amazing photographers for these photos and those in the previous post – Angie Suntken and my big sister and maid of honor Marni Mattner. You can view a few more photos from the ceremony on Marni's website. Check out their websites, they do amazing work!

After the wedding dance ended at 10 p.m when the park closed, we had planned a big bonfire at the adjoining campground. But at 9:57, it started to sprinkle…then rain…then pour, with thunder and lightning and the whole bit. So, we headed to the bar instead (well, the young folk, anyway). Who am I to complain about wearing my wedding dress for just a little longer?
After Jon and I got home, we breathed the most amazing sigh of relief. As we went out on the front porch to sit in the dark and unwind for a minute, the front door knob fell off. We laughed, and said that was the "one thing" that went wrong with our wedding day, because all in all, it had been several shades of wonderful. And now, the bustle was over, our honeymoon was ahead of us, and after that, the rest of our lives. Together.
Looking at these pictures and remembering the moments they captured fills my heart. Looking back, two years ago feels like just a few months, really. I still question how I got so lucky to have this amazing person to call my own. We're not perfect, of course, but he has proven time and again to be just what I need when I need it. And he sure knows how to make me happy.
Now and forever, the love of my life.