Several months ago I saw a comic that would completely change the way I communicate (and therefore, change my life. NBD.)
The artist is Yao Xiao. I want you to see it before another word is said.
// source
Now that you've read it (isn't it amazing?!?) what I want to talk about today, specifically, is how often we habitually apologize in emails.
Before I read about the idea of saying "thank you" instead of "sorry", I apologized…all the time, for practically anything. And I kinda noticed I was doing it too much, but I didn't really know what else to say. The idea of expressing gratitude instead of sorrow will be an instant game changer, if you find yourself acting sorry for existing, like I did.
But where I noticed it most was when I wrote it down. The typed words, "I'm sorry for…" staring back at me from the screen really drove home how often I habitually used the words. I started to realize how often I truly didn't mean these apologies. I also noticed when I'd say them, I'd feel a tug of…something. Subtle guilt and shame, for instance. Oops, I took up space and you noticed it. Oops, I wasn't perfect for a second there. Oops, I was human and made a teeny tiny mistake and now I'm remorseful that I took three days to reply to your non-urgent email instead of replying instantly. For example.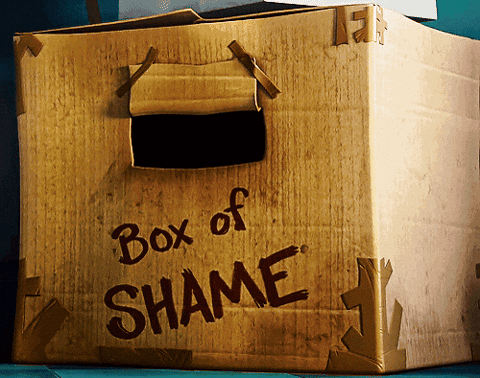 There are things we should be legitimately sorry for. But I guarantee that unless you're intentional about your use of the word "sorry", you're probably saying you're sorry for things far to mundane to really necessitate apologies.
So I am issuing a challenge:
Starting today, you can only say you're sorry in an email if you mean it.
Try it for a weeks, and tell me how it feels. (If you don't find it refreshing and/or empowering, I'll eat cat food.)
To get you started, I've made a list of some of the most common phrases I've used and/or seen in my own email, paired with an example of what you might say instead.
Instead of saying this…

Try saying this…

Sorry there was a broken link on my blog post!
Thanks for letting me know about the broken link! It's fixed now.
Sorry to pester you, but…[insert reminder here]
Thanks for taking care of [project!] I'm checking to make sure you [reminder].
Sorry it has taken me so long to reply.
Thanks for your patience.
~ OR ~
[You could just say nothing at all except your actual reply to the email, which promotes the beautiful idea that it's normal and healthy to not respond to emails instantaneously.]
I'm sick and need to cancel our meeting, sorry for the inconvenience.
I'm sick and need to cancel our meeting. Thanks in advance for understanding.
Sorry I've sent you so many emails today.
This is my fourth email to you, I guess I have a lot to say to you today! Thanks for being so wise/brilliant/reliable and solving all my problems.
I'd love to hear what you think of this idea!
I'm going to be sharing more email tips on the blog in the coming weeks, because email can be such a chaotic zone in our lives—both the sheer volume of messages we send and receive, and also the ways this type of communication seems to follow us everywhere we go (raise your hand if you've ever checked email in bed or on the toilet!) and affect the way we feel, as this post illustrates. To learn more, check out my free guide below.
5 Tools to Make Life EASIER With Your Gmail
If you're interested in learning how how to become the master of your inbox—instead of a servant to it—download my brand new (free!) guide by entering your email below.